Peer Mentor and Leadership Program
---
The Center for Multicultural Access and Success (CMAS) would like to welcome you to Joliet Junior College and congratulate you for taking the next step in your educational journey. CMAS offers a variety of services to assist new students in transitioning to college life. Our department provides leadership opportunities, cultural enrichment, and access to resources to help you achieve your greatest potential. One of the many resources we have is our Peer Mentor Program. The program is designed to help new students learn about the school, where to go, and what to do through an assigned Peer Mentor.
Meet Our 2022-2023 Peer Mentors Below
I want to become a Mentor I need a Mentor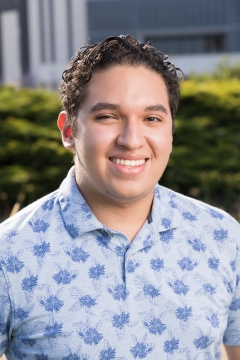 Alejandro Bottia
"My name is Alejandro and I'm a student worker for JJC! I'm majoring in Film/Television with plans to transfer to Columbia College Chicago. I have plans to go into the film industry as a Movie Director/Producer and reach as high as I possibly can. I'm currently a second-year student and I'm graduating this December. I love how many events JJC has, with the variety of clubs and organizations hosting them. I play on my PC during my free time as well as go to the movies a ton. I am a peer mentor because I want to help the new students feel comfortable in their new environment. I was once a shy online student, but I became more active in the JJC community, and I hope this community keeps on growing!"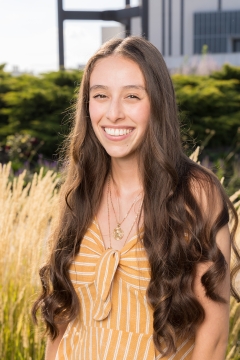 Cory Cabrera
"Hello! My name is Cory Cabrera. I am focusing my career on Communication in Business at Joliet Junior College. I was born and raised in Joliet, Illinois and I am entering my second year at JJC. My future career goal after JJC is to pursue my dream of becoming a flight attendant. One thing that I love about JJC is the number of resources that they have for minority groups that demonstrate diversity within the school. Some of the hobbies I enjoy that help me decompress and unwind are power naps and going for nature walks. Also, in my free time, I enjoy traveling and shopping! The reason why I became a peer mentor is that as a first-generation college student I understand the struggle that many students face. Since I was in high school, I joined the program called Mentor 2.0 with Big Brothers and Big Sisters which significantly supported my studies throughout my four years of high school and paved the way for my future in higher education. My background can provide the resources to assist students who may feel lost and encourage others and keep them from feeling overwhelmed or lost throughout their time at JJC."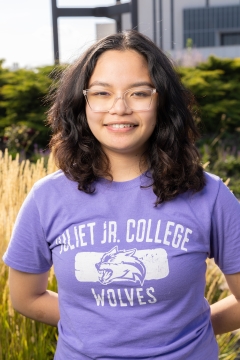 Juell Lagonero
"Hi! My name is Juell Lagonero and I am a 2nd-year student here at Joliet Junior College with a major in Business Entrepreneurship and Real Estate. I was born and raised here in Joliet/Plainfield, Illinois. I love spending time with loved ones, traveling, and Disney! During my free time, I binge-watch TV shows/movies, play Animal Crossing, or go window shopping. After JJC, I plan to transfer to DePaul University in the 2023 Winter Quarter to earn my bachelor's in Business Marketing/Entrepreneurship and Real Estate while also helping my parents with their homecare agency. One thing that I love about JJC is the beautiful Main Campus! I have been to JJC ever since I was a little girl while my mom was studying at the college, but seeing how much it has evolved is quite amazing! The reason why I became a Peer Mentor is that I would love to help incoming college freshmen with their first semester at JJC. Also, I knew what it was like to feel lost and overwhelmed with a transition from high school to college. I once was a lost and overwhelmed student but the help of my Peer Mentor, really helped me get around!"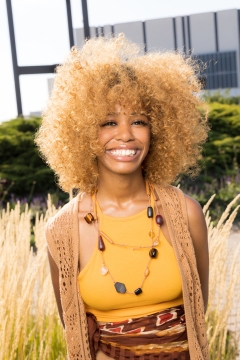 Kayla King
"Hi! My name is Kayla King and I am a second year student at Joliet Junior College with a major in Music Performance. I recently moved to Joliet last year and I am so grateful for the welcoming environment that the community has. This strong sense of community is also one of my favorite things about going to school at JJC. In my free time I like to read, create music and go to community events/live music events in the area. I became a peer mentor because I believe that JJC has done a good job of providing so many opportunities for people of various backgrounds to be successful. I wanted to serve the people of my community so they an opportunity to feel confident and within reach of what they need to succeed in their own passions."
Lyeisha Ellis
"Hi! My name is Lyeisha Ellis. I am currently here at Joliet Junior College majoring in Business Administration. I am from Maywood, Illinois. I've been in Joliet for about 8 years now. This is my second year as a student at Joliet Junior College. After graduating from Joliet Junior College I intend to transfer to a four year university preferably an HBCU. After college I intend to make the most out of my degrees. I want to improve my community by providing jobs and opportunities to others through businesses that I am most passionate about. One of the things that I enjoy most about Joliet Junior College is the community it has provided me. Joliet Junior College has provided me with a positive environment full of supportive people who want to see me grow and succeed as both a student and an individual. Joliet Junior College is full of resources and I'd suggest every student take advantage of them. I am a very artsy person. Some of my hobbies consist of dancing, fashion design, listening to music, writing, reading, painting, and crafting. I love a good DIY! I decided to become a Peer Mentor because I know how important it was for me to have my community here at JJC. I remember being a nervous freshman trying to figure everything out on my own. I am grateful that my path has landed me where I am today. Thanks to my community I am no longer that same nervous student and I know I don't have to figure everything out on my own. I know how important it is for me to have my advisor and my friends support. I would like to pay the same support granted to me forward. Every willing student deserves it."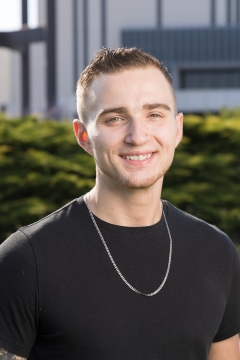 Ryan Wisch
"Hello! My name is Ryan Wisch, I'm from Plainfield Illinois, and I'm currently in the second half of my first year at JJC pursuing my degree in Computer Science and Music. Upon graduation of JJC, I plan on transferring to a 4 year university to pursue my bachelor's degree, and I intend to work for software developing companies that create programs that music producers may use in recording studios to help artists advance their careers. My hobbies include working out and staying active, cooking, and writing & producing music. In my free time, you can usually find me at the gym either working out or training people to workout, making music at my house, or cooking up a new recipe. One of the biggest things I love about JJC is the enormous support staff and multitude of programs that JJC has to offer, especially the programs for underprivileged students, minority groups, and students that have very little access to adequate financial resources. JJC is excellent at making new students feel involved, and they do an amazing job of finding and utilizing resources that cater to any students' needs in order to make their college experience fun and low-stress. I became a peer mentor because, being a first generation student, I recognize and understand the struggles that come with starting college from scratch and the stresses that are inevitably involved, and I want to be a mentor who can show new students like myself all of the wonderful programs here at JJC that make enrolling so easy for everyone, and I want to show how the first time in a new college campus can be a fun, exciting, and informative experience. "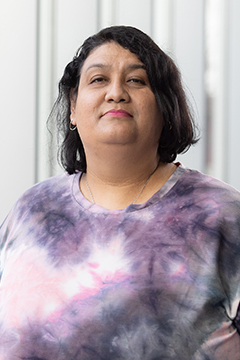 Silvia Vargas
"Hola! My name is Silvia E Vargas. It is my second year at Joliet Junior College, and I am an English Language Learner. My native language is Spanish. I was born and raised in Durango, Mexico. I'm currently enrolled to get my Adv. Cybersecurity & Net Dev. certificate here at JJC. Watching videos and browsing websites on the Internet is a great way for me to gain knowledge about technology. My family, my passion for learning, and my sharing of positive energy are my greatest assets. I became a Peer Mentor to help students to find the right pathway and help them look for what is most beneficial for them to achieve and make their dreams in education and career goals come true. Never give up on your dreams, knowledge can take you anywhere."
Click here for more information about becoming a student Peer Mentor or Peer Mentee.
If you have any questions please message:
Veronica Cabrera
Multicultural Pathway Coach
Phone: (815) 280-2829
Email: vmascote@jjc.edu